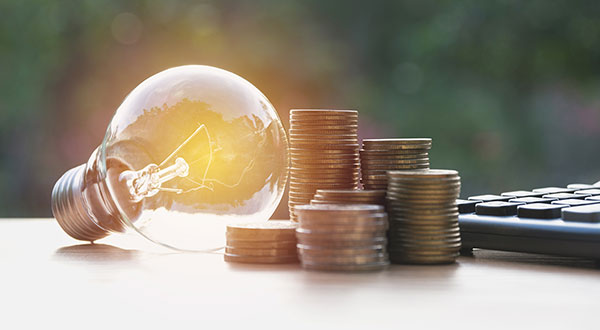 Who says you can't get quality and value?
Of course it's important to us that we provide you with the very best electric, water, wastewater and fiber services in Cocke County. But what's even more important is that we also give you unrivaled value. With that in mind, we offer the following programs to help you save, budget and get the most out of your hard-earned money.
Variable Budget Billing
Whether it's a blistering hot summer, or an absolutely frigid winter, our 12-Month Average Variable Budget Billing Program can help reduce the surprises that sometimes arise on your utility bills—especially when seasonal weather forces you to crank up the AC or the heat.
If you've been a Newport Utilities customer at your current location for at least 12 months and your account is up to date, you're eligible to sign up for this program.
Or, if you're already on the FIXED budget program and your account is up to date, you're eligible to switch over to the Variable program.
Click here for more information on how the 12-Month Average Variable Budget Billing Program works so you can decide whether this plan is right for you.
energy right Program
The energy right Program is TVA's energy conservation program. With an electric heat pump installed through the energy right Program, your home is heated or cooled to a constant, comfortable temperature all year round. 
Newport Utilities and TVA offer attractive financing options, including no money down, as well as other incentives such as a free inspection to assist you in obtaining a quality heat pump installation that offers both year-round comfort and energy efficiency. Financing is also available for home improvements that increase energy efficiency.
For your convenience, monthly payments are added to your utility bill. In order to qualify you must be a Newport Utilities electric service customer and the recorded owner of the property where the heat pump is to be installed.
For more information please contact David at 423-625-2867.
Green Power Switch

TVA and participating local public power companies, working with input from the environmental community, have created a program called Green Power Switch® to produce electricity from renewable sources and add it to the Tennessee Valley's power mix.
TVA and participating power distributors also offer you a great opportunity to support the growth of green power in the Tennessee Valley. It's called Green Power Providers program (GPP). This program provides support and incentives for the installation of solar and wind generating facilities. This makes more green power available for GPP subscribers, and it creates a market for small-scale green power generation by homeowners and small businesses.
TVA applications for the Green Power Providers program are available online and must be submitted to TVA's website. Applicants should carefully read the 2016 Green Power Providers Program Participation Guidelines and description of the application process before applying with Newport Utilities. The procedures for the GPP application process are separate from the Newport Utilities interconnection process and are included online at the website above under the Application Process link with further details listed under the caption "How the Program Works."
Project Help
Project Help is a temporary assistance program for customers who have special needs and circumstances to the extent that they are unable to be economically self sufficient. If you have a need for this assistance please contact one of our customer service representatives to apply. Apply
Funding for Project Help is from voluntary contributions from NU customers and employees. Customers can contribute to the program as they make their monthly payment, or they may choose to have a set amount automatically billed on their statement each month. If you would like to make a contribution to Project Help please contact one of our customer service representatives. Contribute