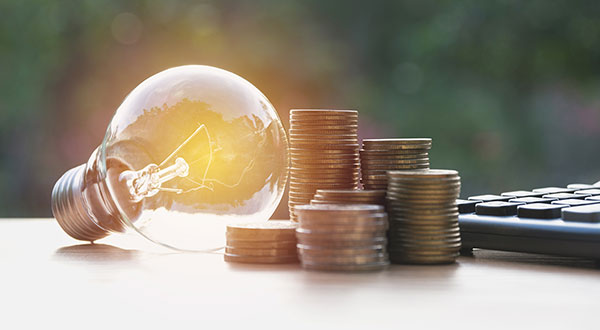 Who says you can't get quality and value?
Of course it's important to us that we provide you with the very best electric, water, wastewater and fiber services in Cocke County. But what's even more important is that we also give you unrivaled value. With that in mind, we offer the following programs to help you save, budget and get the most out of your hard-earned money.
Variable Budget Billing
Whether it's a blistering hot summer, or an absolutely frigid winter, our 12-Month Average Variable Budget Billing Program can help reduce the surprises that sometimes arise on your utility bills—especially when seasonal weather forces you to crank up the AC or the heat.
If you've been a Newport Utilities customer at your current location for at least 12 months and your account is up to date, you're eligible to sign up for this program.
Or, if you're already on the FIXED budget program and your account is up to date, you're eligible to switch over to the Variable program.
Click here for more information on how the 12-Month Average Variable Budget Billing Program works so you can decide whether this plan is right for you.
EnergyRight Solutions
The EnergyRight® Solutions Program from TVA and Newport Utilities encourages, communicates, and supports the wise and efficient use of electricity in homes and businesses. 
The eScore Program offers homeowners a simple path to make their homes as efficient as possible. Through rebates on eligible improvements performed by a Quality Contractor Network member, eScore allows homeowners to work at their own pace toward their home's goal of a 10, re-engaging with the program as many times as needed to achieve their home's best possible energy performance. eScore is part of the EPA whole Home Energy Efficiency Upgrades Project.
EnergyRight's Home Uplift program helps homeowners make home upgrades that will save money on their monthly electric bills. It's all about creating change that improves quality of life.
Local businesses may qualify for financial incentives that help offset costs associated with energy upgrade projects.
For more information on the EnergyRight program, visit EnergyRight.com.
Green Switch
Renewable energy available today!
Green Switch makes it easy to support clean, green renewable energy.
Join thousands of Valley residents who are using renewable energy to power their homes and businesses through Green Switch. For as little as $2 per month, you can reduce your environmental impact by supporting solar, wind and biomass renewable energy generated within the Tennessee Valley.
Green Switch – originally called Green Power Switch – was launched by Tennessee Valley Authority (TVA) in 2000 as the first green power program in the Southeast. Since its launch, Green Switch prices have decreased drastically, making renewable energy an affordable option.
By choosing to participate, you are making an environmentally responsible choice and reducing your footprint.
For more information or to sign up, contact Customer Service at 423.625.2800.
Project Help
Project Help is a temporary assistance program for customers who have special needs and circumstances to the extent that they are unable to be economically self sufficient. If you have a need for this assistance please contact one of our customer service representatives to apply. Apply
Funding for Project Help is from voluntary contributions from NU customers and employees. Customers can contribute to the program as they make their monthly payment, or they may choose to have a set amount automatically billed on their statement each month. If you would like to make a contribution to Project Help please contact one of our customer service representatives. Contribute
Bill Assistance for Low Income Households
We understand that sometimes it can be difficult to pay your electric bill but assistance may be available through the Low Income Home Energy Assistance Program (LIHEAP). LIHEAP is a federally-funded program that helps eligible low-income households pay for their home energy bills.
In Cocke County, assistance may be available through Douglas-Cherokee Economic Authority, Inc. (DCEA). DCEA provides assistance with home heating and cooking needs and is open to all households that meet income guidelines. In May, 2020, Newport Utilities and TVA partnered to donate $20,000 to Douglas-Cherokee's LIHEAP program to provide assistance to our community.