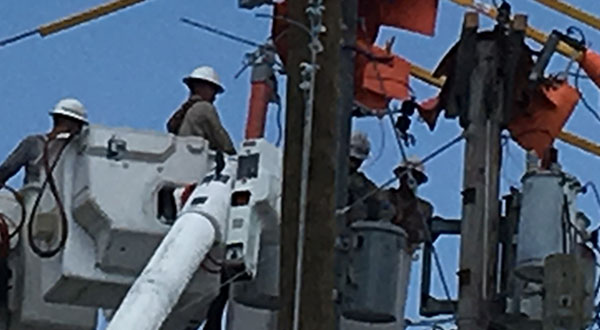 Get all your outage info here.
If you need to report an outage, please call our Outage Management System (OMS) at 423-625-2800.
You're on the right page if you need to report an outage, check on current or planned service interruptions, and learn how to prepare for outages—whether they're scheduled or unexpected.
Outage Management System (OMS)
With our outage call management system (OMS), you can report an outage, check on the status of an outage, receive updates via automated callback messages, and more. You will need your account number to access the system (you can find it at the top of your bill). For a step-by-step OMS flow chart, please click here. 
Planned Service Interruptions
Sometimes, necessary maintenance may cause temporary interruptions in your utility services. We will do our best to place an automated courtesy call if your service may be disrupted due to planned outages. To insure that you receive these calls, please let us know if your phone number changes. View upcoming planned outages.
Preparing for a Power Outage
Your electrical service can be disrupted for a number of reasons, including lightning, high winds, ice and heavy snow, and equipment failure. Service is usually restored within a short period of time, however major power outages for extended periods can occasionally happen. Check out our resources for advice on what to do in these situations.
Electrical Safety Tips
At home or at work, electricity is never something that should be handled or approached carelessly. Electricity can be dangerous – even deadly. That's why we've put together some simple, yet essential safety guidelines to help you avoid accidents around the house or in the workplace. Read the article.
Outage Map
Want a quick overview of where we are experiencing outages in our local area? Check out our outage map. 
Call before you Dig
811 is the number you should call before you begin any digging project. This federally-mandated "Call Before You Dig" number was created to help protect you from unintentionally hitting underground utility lines while working on digging projects. Learn more details about "Call Before You Dig".