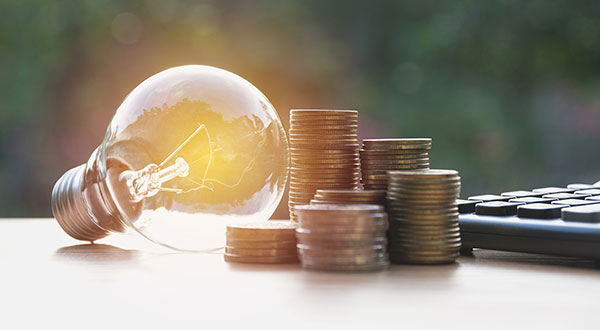 Who says you can't get quality and value?
Of course it's important to us that we provide you with the very best electric, water, wastewater and fiber services in Cocke County. But what's even more important is that we also give you unrivaled value. With that in mind, we offer the following TVA Partnership programs to help you save energy and get the most out of your hard-earned money.
EnergyRight Solutions
The EnergyRight® Solutions Program from TVA and Newport Utilities encourages, communicates, and supports the wise and efficient use of electricity in homes and businesses.
The EnergyRight® Program offers homeowners a simple path to make their homes as efficient as possible. Through rebates on eligible improvements performed by a Quality Contractor Network member, EnergyRight® allows homeowners to work at their own pace toward their home's goal of a 10, re-engaging with the program as many times as needed to achieve their home's best possible energy performance. 
EnergyRight's Home Uplift program helps homeowners make home upgrades that will save money on their monthly electric bills. It's all about creating change that improves quality of life.
Local businesses may qualify for financial incentives that help offset costs associated with energy upgrade projects.
For more information on the EnergyRight program, visit EnergyRight.com.
Green Switch
Renewable energy available today!
Green Switch makes it easy to support clean, green renewable energy.
Join thousands of Valley residents who are using renewable energy to power their homes and businesses through Green Switch. For as little as $2 per month, you can reduce your environmental impact by supporting solar, wind and biomass renewable energy generated within the Tennessee Valley.
Green Switch – originally called Green Power Switch – was launched by Tennessee Valley Authority (TVA) in 2000 as the first green power program in the Southeast. Since its launch, Green Switch prices have decreased drastically, making renewable energy an affordable option.
By choosing to participate, you are making an environmentally responsible choice and reducing your footprint.
For more information or to sign up, visit https://www.tva.com/energy/valley-renewable-energy/green-switch.
Green Connect
Considering Solar Energy?
TVA Green Connect is your source for information!
If you are considering adding solar panels to your home, TVA and Newport Utilities want to make sure your solar installation is safe, reliable, and properly sized for you and your family.
TVA's solar calculator tool helps you determine if an on-site solar system is right for you. The solar calculator is intended for residential and small business customers who want information on the cost and payback of installing solar energy options.
If you are ready to get started, visit https://www.greenconnect.com/ to register your home and get access to TVA approved contractors.
For more information about solar energy, visit https://www.tva.com/energy/valley-renewable-energy/green-switch.
Dispersed Power Production Program
Support energy efficiency and renewable energy!
Do you have a renewable power system for your own use and would like to sell power to TVA? Or do you have a renewable system that's larger—up to 80 MW—than cannot be accommodated by any other Valley Renewable Energy Program? Then you might be a fit for the Dispersed Power Production program.
Thanks to TVA's Dispersed Power Production program, a facility that generates (or co-generates) up to 80 MW of renewable power may qualify to connect to TVA's power lines.
Once connected, a qualifying facility can use its power for itself and sell any extra power to TVA at TVA's avoided costs, or it may sell all of its power to TVA at TVA's avoided costs. (Avoided cost simply means the wholesale rate TVA projects for itself with no incentives or retail mark-up).
This program supports our efforts to promote energy efficiency, increase renewable energy (e.g., hydro, wind, solar) and provide the Valley with low-cost, reliable and clean power.
To participate in the program and sell power to TVA, call (423) 751-8640 or email [email protected] and request a standard contract.
For additional information, visit https://www.tva.com/energy/valley-renewable-energy/dispersed-power-production-program.