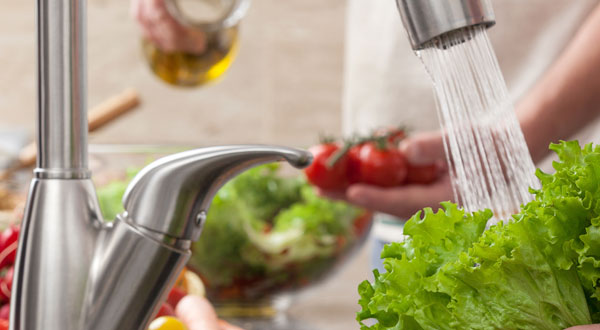 We never waste an opportunity to raise our quality standards.
You probably don't even think about where your wastewater goes. You also probably didn't even realize that, every day, four million gallons of it are being processed efficiently in our modern, environmentally friendly treatment facility. But you should know that it's happening safely, it's constantly being inspected, and our processes meet the absolute highest standards.
In our New Newport Utilities Wastewater Treatment Plant, our state-certified operators use the most modern treatment techniques and constant monitoring of the treatment and discharge process in our on-site laboratory. In fact, we've even made recent upgrades and expansions to or facility that make it the standard for region.
We also cooperate with local manufacturers to assure proper, safe and efficient processing of special or uncommon wastewater products.
At Newport Utilities, we are proud to be a recipient of the Kentucky-Tennessee Water Environment Federation Wastewater Operational Excellence Award. This award recognizes the dedication, resolve, and outstanding effort of the employees of this facility by having no more than one violation of its NPDES permit limit for 14 of the last 15 years.
Grease Control Program
Grease is one of the primary causes of stoppages, backups, and overflows in a wastewater collection system. Grease buildup in the sewers also causes restrictions and capacity problems. At Newport Utilities, our goal is to improve sewer service by reducing the impact of grease.
Through our Source Control Program, Food Service Facilities (FSFs) are required to capture and properly dispose of the grease generated by their operation.
Our Grease Control Program, establishes the administrative and inspection requirements and defines the proper sizing, installation, and maintenance of grease traps/interceptors. Through the cooperative efforts of FSFs, the goal of improved sewer service through proper grease control can be achieved.
Class A Biosolids
Newport Utilities is a generator of residuals/biosolids from our treatment of domestic and industrial wastewater. The residuals are turned into Class A biosolids through an indirect drying process, generating greater than 90% dry solids. Since the biosolids are Class A, they meet all local, state and federal regulatory requirements. The biosolid material is available at the Wastewater Treatment Plant. Newport Utilities does not warrant, guarantee, promote, or distribute the biosolids as a commercially produced additive for soil enrichment.
Your wastewater service by the numbers.
Rated Capacity: 4.35 Million Gallons per day
Average Flow: 2.8 Million Gallons per day
Lines: 75 Miles
Pump Stations: 42 PS
Manholes: 1,305
Customers: 4,445
Wastewater FAQs
Newport Utilities provides wastewater services to nearly 4,500 customers in Cocke County. If you are experiencing any issues with your wastewater system, here are a few things you can check first before calling NU.